Targeting Archery Location
Our facilities are in the delightful village of Scholes, Leeds, Yorkshire, a village known for its lovely upkeep and is entered into the annual "Village in Bloom" competition. Scholes is easily accessible from the A64 which runs just north of the village and so gives excellent access from Leeds and the nearby M1/A1(M) motorways.
Targeting Archery is located in the grounds of St. Philip's Church on Main Street, Scholes. There is an off-road tarmac car park available. We currently have use of 100M of land behind the church for outdoor shooting plus the field beyond for an overshoot area meaning we can shoot target archery up to 90M/100yds which is Archery GB approved. The range has lovely views over open farm land on three sides. This is a beautiful site for archery, especially on sunny days. There is a car park including some larger spaces marked up for disabled use.
Previously we used their Church Hall for indoor shooting, but since October 2020 we moved our indoor shooting to St. Luke's Community Centre which provides a larger shooting hall for a better archery experience for our members and beginners' course students. The hall has good disabled access. There is a small car park at the end of the building with off-road street parking outside the boundary walls.
Directions to both venues are provided below.
St. Philip's Church
Main Street
Scholes
Leeds
West Yorkshire, LS15 4DJ
What3Words:
Entrance to car park: ///amount.forget.opera
Venue Overview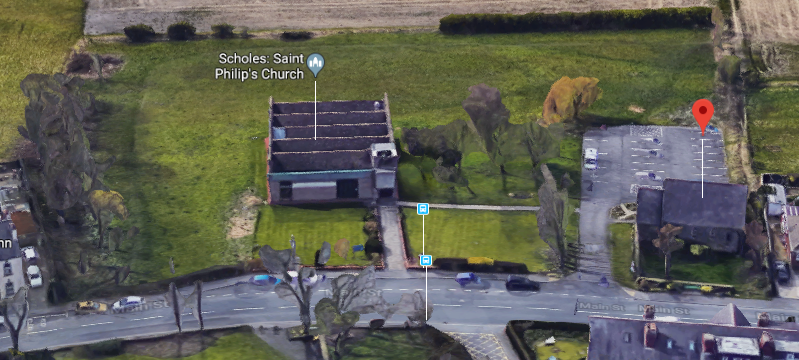 A birds eye view of the venue, looking South. The main St. Philip's church building is central and the Church Hall where we shoot indoors is indicated by the red marker to the right. Main Road runs across the bottom. The entrance to the church's car park runs alongside the Church Hall. Outside archery takes place in a roped off area at the back of the car park shooting along the field behind church.

St. Luke's Community Centre
Stanks Lane North
Swarcliffe
Leeds
West Yorkshire, LS14 5AS
What3Words:
Entrance to car park: ///mimic.bonus.poems
Entrance to building: ///light.misty.ideal
Formally known as St. Luke's Church, the name has not been updated on Google Maps yet.