Meet Karen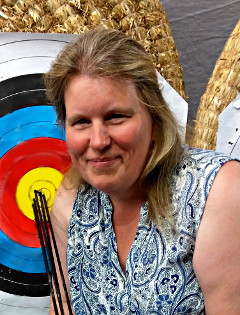 Karen Dales
County Level Coach
Hello, my name is Karen Dales and I am currently a County Level Archery GB coach. I am married with three grown up daughters.
I took up archery in 2010 and have started my archery journey by shooting with the Bowmen of Leeds archery club and I continue to shoot with them to this day. Through my love for the sport I started to assist with general coaching, supporting younger and newer members. I also began coaching the juniors at Wetherby High School. This side of things began to drive a new interest in the sport and so in 2012 I completed the Level 1 Coaching course to ensure I was providing the correct coaching methods. I enrolled for the level 2 course immediately after Archery GB redesigned the course in 2014, which I completed in that year. Part of that course entailed finding further coaching opportunities, and so I took on coaching duties with St. George's, Harrogate.
In 2014 I applied for Archery GB's Coaching Development Initiative and was delighted to be selected as one of the coaches on the scheme. This scheme is designed by Archery GB to support coaches to find young archers around the country and help develop their skills with an aim of getting the best young archers in the country onto the Archery GB Performance Academy Programme which is designed to prepare archers for representing the UK in world class competition including, of course, the Olympic games. I worked with both the junior and senior Yorkshire Archery Squads, where I met a coach from Thirsk Archery. This led to me coaching Thirsk Juniors. I continue to coach with most of the above to this day. I'm delighted to say that my daughter Catherine was one of the first students to be selected to go onto the first round of the programme in 2012.
Archery GB encourage coaches on the scheme to set-up their own small business offering archery and coaching to their local people and finding places for the sport of archery to be held and taught. I have grabbed this initiative and the result is the business you see represented within this website, Targeting Archery. So named because I am targeting all aspects of archery in the educational and recreational areas. In 2017 I expanded the coaching business by starting my own Archery Club, Targeting Archery Club.
After working with the GB team archers for a couple of years, I was invited to join Archery GB's Talent Coaching Programme in 2014 and qualified in 2016, one of only two people in the UK to qualify during that year.
In 2019 after several months of hard work (including suffering a collapsed disk in my neck and subsequent operation to fuse two vertebrae together) I completed my County Level Coaching qualification meaning I am now a County Level Archery GB Coach.
During my coaching I have come across several military personnel, some of which wanted to find a sport which they could use as part of their rehabilitation process for those unfortunate enough to have been injured during their military service career. I particularly wanted to support these people and encourage them in archery. As a result I have coached several ex-military personnel, including two that have gone on to win at the 2014 Invictus Games and one who has won at the 2017 DoD Warrior games in Chicago, America. I plan to continue to specialise in coaching the injured, including ex-military personnel.
Meet Ken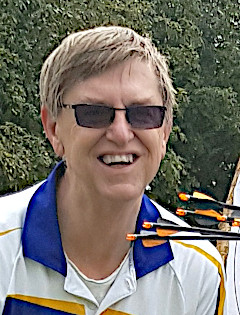 Ken McNaught
Level-1 Coach
Hi, my name is Ken McNaught and I started my archery career in 2011 with Bowmen of Leeds, a year after Karen started with that club, where I also got hooked on this wonderful sport of archery. Each year when they run their annual Beginners' Course I always enjoy volunteering my time to help teach new students and introduce them to archery. I also took on the chairman's position for that club for a few years
When Karen decided to start her own coaching business I supported her in several ways including building her website to go along with the business and where possible I came up from Wakefield to help her run many of her coaching and regular come-and-shoot sessions, eventually rearranging my working hours to allow me to attend and assist at almost all sessions.
We also started running several Beginners' Courses each year which Karen and I ran between us. Over the years I like to think we provide an enjoyable, entertaining and of course educational course for all our students. However I was still coaching in an 'Experienced Archer' role so I decided in 2018 to take (and pass) my Level-1 Archery GB coaching qualifications. Therefore I am now a qualified coach, meaning our courses are run by fully qualified coaches.
In 2017 when Karen decided to start up a club to run alongside the coaching business, I continued to support her with another website dedicated to club matters and continued to volunteer my time helping run all the club sessions.
I have been shooting recurve ever since I started archery in 2011 and in 2020 I purchase a compound. Over the years I have become confident in the set-up, tuning and ongoing maintenance of the recurve bow and perform most of the maintenance on all the club equipment as well as members' equipment when they ask me to. I'm currently (2020) starting to learn set-up and maintenance on the compound bow, though I recognise I have a long way to go to become as confident on this type of bow as well.
I retired from full time work in 2021 and I now dedicate even more time to volunteering with working alongside Karen and helping organise and run the Targeting Archery Coaching Business as well as the Targeting Archery Club sessions. If you have any questions about either of these, or about anything else archery related, don't hesitate to get in contact with either of us. We are both passionate about archery and will do our best to assist you.