Targeting Archery
If you are interested in archery then you have come to the right place. I'm passionate about archery and archery coaching, too.
Coaching
Targeting Archery provides quality, experienced, qualified archery coaching to all archers, from complete beginners to advanced archers. I am a qualified level 2 Archery GB Coach with plenty of experience with working with adults, juniors and disabled archers. I coach at several archery clubs, with the Yorkshire Archery Squad and along side World Class Programme Coaches. In coaching disabled people, I have built a special interest in working with injured ex-service people who are interested in archery as part of their recuperation process. I have coached several ex-service personnel, some who went on to competed at international level at various Invictus Games and DoD Warrior Games, several taking Gold in their class.
Beginner's Courses
Anyone wanting to join an archery club will first need to complete an Archery Beginners' Course. We run several Beginners' Courses throughout the year under the very experienced guidance of Karen. There is plenty of information on our Beginners' Course page and you can enrol for a course using our online Enrolment Form.
Recreational Archery
Archery is also very good fun, even if you have never done it before. So targeting Archery offers a range of recreational archery for any age and ability. I can provide birthday parties, Stag & Hen parties, plus corporate events and team building sessions either at my venue in Scholes Leeds, West Yorkshire, or possibly on site at your own venue if suitable (extra fees may be involved).
More information can be found in the following pages of this website.
I hope you find everything you are looking for within this website. If not, please contact me for more information and I will be glad to help further.
This Website
This website is dedicated to both the coaching and educational aspects of archery that I am organising, as well as the recreational side of archery.
If you are interested in learning archery, improving your current skills in the sport, or are more interested in trying archery in a relaxed way with the likes of Have-a-Go events, archery based parties or team bonding schemes, then you will find all you need to know within these pages.
Feel free to contact me if you have any questions or would like further information on any aspect of archery.
Thank you for your interest.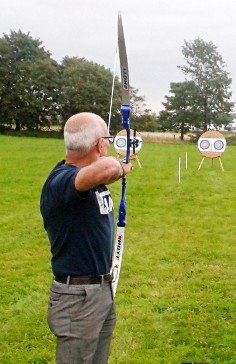 Invictus Games 2018
As the Invictus Games 2017 have just finished and we are already looking forward to next year's Invictus Games competition which is being held in Sydney, Australia 2018. If there are any ex-service budding archers wanting to take up the wonderful sport of archery who would love to take part in next year's competition (subject to being selected), registration for the "novice" competition is now open. I am looking forward to coaching applicants for next year's Invictus Games.
Also, any ex-service personnel who already shoot archery and wish to enter the selection process for the Open Invictus Games, we would love to assist with coaching you with an aim of being selected.
Just pop along to any of our Tuesday afternoon come-and-shoot sessions (see inside this website for more details) and this goes for anyone who is simply interested in trying archery for the first time. We would love to see you all. Contact Us for more information.